ECS&R makes electronics recycling easy for both the residential and commercial sectors.
Did you know since 2010, the US DEP has prohibited residents & businesses from throwing away electronics in the weekly trash? You can now take comfort in knowing that your electronic equipment is completely demanufactured. We responsibly recycle all components minimizing the impacts to the environment while protecting your liabilities.
At ECS&R, you can rest assured that we are disposing and recycling your electronics properly which is not the case at many companies. For more information on the electronics recycling epidemic in America, click to read this article by VICE.
For more information regarding the laws and provisions surrounding electronics recycling and disposal, click here to visit the PA DEP website. 
Permitting/Certification: ECS&R is permitted & bonded through the PADEP permit 081 for electronic demanufacturing. In addition, ECS&R operates Pennsylvania's 1st R2 Certified company for electronics recycling. (ReCom Services, Inc.). R2 certification (sometimes referred to as responsible recycling certification) is a company level certification based on the R2 standard overseen by the R2 Technical Advisory Committee (TAC).
The standard is described as "Responsible Recycling ("R2″) Practices for Use in Accredited Certification Programs for Electronics Recyclers". The standard requires certified companies to have a policy on managing used and end-of-life electronics equipment, components and materials based on strategies such as reuse, materials and energy recovery and/or disposal.
Security: ECS&R is certified in hard-drive shredding/destruction.
Data Destruction: ECS&R shreds each and every hard drive collected from both residents and businesses.
Documentation: ECS&R provides businesses with Certificates of Recycling and Destruction and Tracking Verification.
At ECS&R, we provide several electronics recycling options, listed below: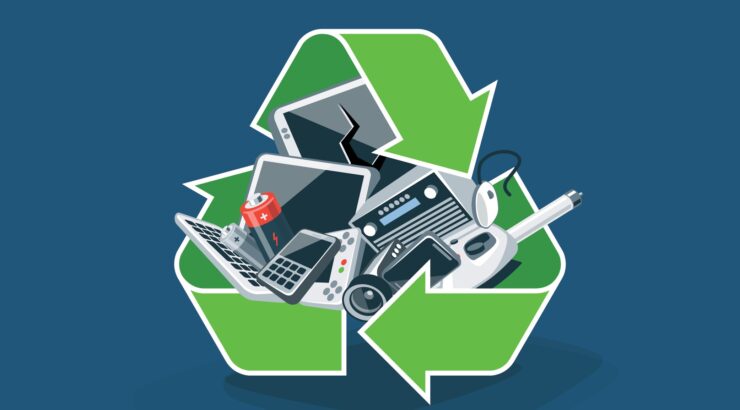 Recycling Collection Events: In partnership with 90+ municipalities across Pennsylvania, ECS&R organizes and manages recycling collection events for both residents and businesses. Register now for an event near you!!
Recycling Center Drop Off Locations: We accept electronics recycling drop offs at three major recycling centers- Erie, Cochranton, Eastern Pittsburgh and Butler (Evans City).
Recycling Pickup Service:  We will come to your home and collect your old electronics for a small fee (calculated based on distance from our recycling centers).
ECS&R will recycle any device with a cord, circuit board, or screen, including the following:
Computers
Laptops
Tablets
Peripherals
Televisions
DVD Players
VCRs
Cell Phones
Copiers
Fax Machines
Microwaves
CD Players
Cassette decks
Alarm Clocks
Video Cameras
Desktop Computers
Phone Systems
Dehumidifiers
Stereos
Laptops
Printers
Video game consoles
iPods
CD Players
Tape Players
Air Conditioners
We do not accept CDs or VHS Tapes