Each person in Pennsylvania produces an average of four pounds of household hazardous waste each year. That's about 25,000 tons/yr statewide.
But what is Household Hazardous Waste you ask? The DEP defines household hazardous waste as "those wastes produced in our households that are hazardous in nature, but are not regulated as hazardous waste, under federal and state laws."
Improper and unlawful disposal of household hazardous waste can include pouring them down the drain, on the ground, into storm sewers, or putting them out with the trash. The improper disposal of these wastes can pollute the environment and pose a threat to human health.
For more information regarding household hazardous waste, visit the PADEP website.
At ECS&R, we provide several household hazardous waste recycling options, listed below: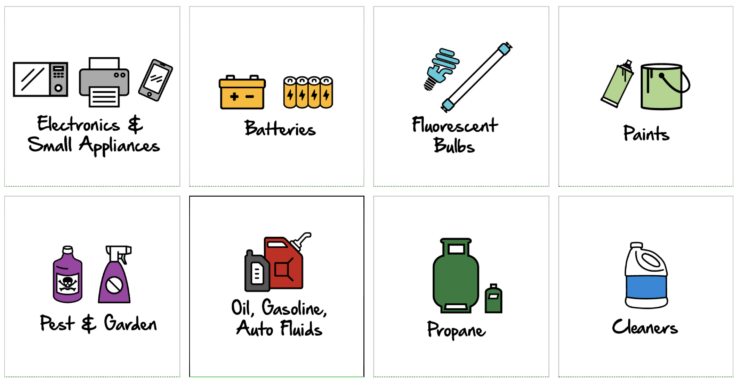 Recycling Collection Events: In partnership with 90+ municipalities across Pennsylvania, ECS&R organizes and manages recycling collection events for both residents and businesses. Register now for an event near you!!
Recycling Center Drop Off Locations: We accept household hazardous waste recycling drop offs at three major recycling centers- Erie, Cochranton, and Butler (Evans City).
Point, Pack and Pick Up Service: We will come to your home and collect your old household hazardous waste for a small fee (calculated based on distance from our recycling centers).
Household Hazardous Waste Includes:
Oil Based/Latex Paint
Flammable Liquids
Stains/Finishes
Fertilizers
Water Sealers
Wood/Metal Cleaning and Finishing Products
Glues, Adhesives
Pool Chemicals
Antifreeze/Oil Putties
Household cleaning agents
Aerosols
Gasolines/Kerosene/Fuel
Paint Stripper
Propane Tanks/Compressed Gas Cylinders
Waste Oil/Motor Oil
Fuel Additives
Transmission/Brake/Starter Fluid
Degreasers
Car Wax and Polishes
Bleach
Lye
Indoor Pesticides
Flea Repellents/Shampoo
Bug Sprays
Strychnine
Mouse/Rat Poison
Driveway Sealer